Coping With a Spouse Who Has PTSD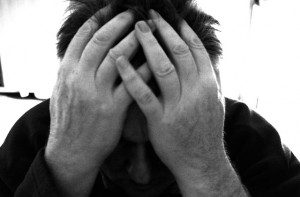 PTSD, or Post-Traumatic Stress Disorder, is a psychiatric disorder that can develop after a person experiences or witnesses a life-threatening event such as military combat, natural disasters, terrorist incidents, serious accidents, or physical/sexual assault as an adult or child. Following one of these traumatic experiences, it is natural for a person to feel afraid, sad, anxious, or disconnected. But if these feelings don't fade away and you are stuck with a constant feeling of danger, you may be suffering from PTSD.
The symptoms of PTSD can make it very difficult to maintain a healthy, happy relationship. Normal arguments can turn into explosive fights, and misunderstandings can become prevalent. The non-PTSD partner may even start to develop secondary trauma, just from being exposed to the intense PTSD their spouse is suffering from. Often referred to as "caregiver burden", the spouse can experience overwhelming stress and strain due to the emotional, physical, and financial demands of their partner.
Fortunately, there are things you and your partner can do. These tips should help you cope with the effects of PTSD and significantly improve your relationship:
Educate Yourselves

Take advantage of all of the great resources that are available. Learn the stages of the disorder, and the effects that it has on the body and mind. The more you know, the better off you will be.

Set Clear Boundaries

Unfortunately, PTSD can sometimes cause people to be abusive toward their friends and loved ones. Just because your partner is suffering, it does not give them the right to be abusive or violent. Sit down with them ahead of time to set clear boundaries and rules for what is tolerable in the relationship and what is not.

Enroll in Couple's Therapy

Research shows that couple's therapy can be very helpful in coping with PTSD in the relationship. Find a therapist who is educated and professionally trained to provide family therapy, and also is knowledgeable about trauma. Coping with this disorder on your own is difficult. Why not get some help?

Study Triggers Together

The emotional highs and lows of PTSD are almost always caused by some sort of trigger. A trigger can be anything at all. They can be sights, sounds, smells, or even feelings that bring back memories of the trauma they experienced. Sit down together and try to figure out as many triggers as you can. The more triggers you figure out, the easier it will be to avoid them.
Post-Traumatic Stress Disorder can present challenges in your relationship that you may not think you can overcome. If you follow these tips, however, you should be able to maintain a healthy, strong, loving relationship.
Sources: