How Divorce Law Works In Maryland
How Divorce Law Works In Maryland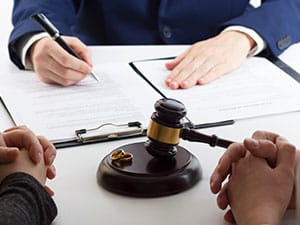 When Should You Get A Divorce?
Divorce law is one of the most difficult areas of family law. When divorce is the only way out of an unhappy marital relationship, it is very difficult for one or both parties in a marriage. Marriage is not easy, but when everything has been tried, and one or both parties feel that they would be happier alone or with someone else, the divorce process should begin. When divorce is initiated, our attorneys understand the kind of stress, financial hardship, and uncertainty it can cause our clients.
How Can A Maryland Divorce Lawyer Help?
Our attorney's goal at all initial interviews for cases involving divorce is to listen carefully and understand the circumstances that led to the divorce so that our attorneys can do their best to advise clients about the best strategy and approach. Each case is different and every client has different needs. We tailor our representation in each divorce case based on what our client's needs and goals are. Whether you're looking to get in touch with a Rockville, MD divorce attorney, a Greenbelt, MD divorce lawyer, an Annapolis, MD divorce attorney, or a Frederick, MD divorce lawyer, give us a call today at (301) 340-1911 to discuss your options.
How Is Marital Property Divided In Maryland?
Sometimes, the biggest issue in a divorce involves the Distribution of Property. In some cases, the biggest issue is whether alimony should be paid by one spouse to the other. Our attorneys have the experience and legal knowledge to advise our clients and litigate in court when settlement is not possible. Our Maryland divorce attorney will understand your case in-depth and do everything possible to resolve your case in the most convenient manner.
Call Now To Discuss Your Options (301) 340-1911
If Marital Property is an issue, our attorneys practice various methods to settle property disputes in order to save our clients time and money. One of those methods is mediation. Mediation is often ordered by the court and clients can feel confident that our attorneys are there for property mediation to advise and help them reach a fair settlement. There are cases in which a conference with an experienced mediator is vital to helping parties move towards a resolution. Often when the value of a piece of property is an issue, an appraisal or expert would need to be consulted.
Ultimately, our success depends upon each one of our clients feeling as if we successfully helped them get through a major obstacle with the understanding, legal advice, and competent representation they expected and deserved. Our attorneys often encourage clients during this difficult process by reminding them that a crisis often happens for a reason and that no matter how difficult a situation it too shall pass. A fresh start is near.
Latest Divorce Articles
Talk To A Reputable Maryland Divorce Attorney Today
At the Law Offices of Sandra Guzman-Salvado in Rockville MD, our attorneys carefully evaluate if our client and their spouse are able or willing to move towards an amicable resolution and settle the case to our client's satisfaction. This saves our clients time, money, and helps our clients move on with their lives much faster. If the case must go to trial, our attorneys are experienced and prepared to advocate vigorously in court. Our goal is to obtain the best result for our client whether it's through negotiation or trial. Contact Online or call (301) 340-1911 to talk to a Rockville, MD divorce attorney.
Office Locations
11 North Washington St. Ste 500 Rockville, MD 20850
6301 Ivy Lane
Ste 700 Greenbelt, MD 20770
3 Bethesda Metro Center, Suite 700 Bethesda, MD 20814
5100 Buckeystown Pike Ste 250 Frederick, MD 21704