Sandra Guzman-Salvado, Esq.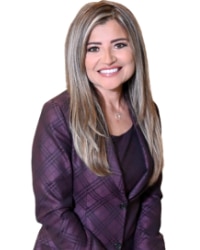 24 Reviews
My experience with you was a very good one. Even though the reason that I needed an attorney was not pleasant, you did a very good job of making sure things were handled and keeping me informed which in turn allowed me not to focus on my everyday life…
Latika T., Germantown, Maryland
Mrs. Guzman represented me during my divorce and I have to say I felt guarded at every step of the process, but Mrs. Guzman took the time to meet with me as many times as I needed before the court day. You'll find Mrs. Guzman carries herself with…
Zoe U., Germantown, Maryland
I am Maria and I used Sandra's services. She was very proper and genuinely concerned for my well being as her client. The most important thing is that she was very honest and upfront. I highly recommend her without reservation to anyone. For me she was the best.
Maria P., Boyds, Maryland
Ms. Guzman-Salvado was appointed as counsel for minor children in a hotly contested custody case I was invloved in where I represented the father. Ms. Guzman-Salvado represented the minor children zelously and appropriately in the litigation. She cared about her clients and helped settle the case in a manner that was clearly in the minor children's best interests…
David Bach, Family Attorney
Sandra cares about her clients and is a very knowledgeable and dedicated attorney. I highly recommend her to any prospective client.
David Gardner, Family Attorney
Sandra is an excellent attorney. She is incredibly knowledgeable and leads with compassion. She is very well respected by fellow lawyers practicing in family law.
Sakhouy Lay, Transportation Attorney
Sandra Guzman-Salvado, Esq.
Sandra first became familiar with Maryland family law at the Baltimore City office of the Legal Aid Bureau in the Domestic and Child in Need of Assistance (CINA) units as an intern while attending school at the University of Baltimore School of Law. Upon graduation, she practiced Family Law at the Metropolitan Office of the Legal Aid Bureau located in Riverdale, Maryland. This attorney experience was followed by acquiring a position as the Managing Family Law Attorney, for a well-established firm, for over four years.
Legal Practice:
Best Interest Attorney, Family Law, Divorce, Collaborative Law, Mediation
Presently Involved in the Maryland Community in the Following Ways:
Current Memberships:
Women's Bar Association of Maryland, Montgomery Bar Association;
Member of the Family Law Section of the Montgomery County Bar Association;
Member of the Collaborative Law Section of the Montgomery County Bar Association;
Certified Training in Collaborative Law in the State of Maryland;
Certified Court Appointed and Private Family Law Mediator
Certified Court Appointed Best Interest Attorney for Minor Children
Certified Parent Coordinator in Maryland
Previous Memberships:
Board Member of the Maryland State Bar Hispanic Bar Association Executive Board
Board Member of the Maryland State Bar Alternative Dispute Resolution Section Previous Member of the Prince George's County
Member of International Association of Collaborative Professionals
Board Member of the Prince George's County Community Legal Services Organization
Education:
Law School: University of Baltimore School of Law, J.D., 2004
College: University of Maryland, BA – Bachelor of Arts, 1999

Call Now To Discuss Your Options

(301) 340-1911
Office Locations
11 North Washington St. Ste 500 Rockville, MD 20850
6301 Ivy Lane
Ste 700 Greenbelt, MD 20770
3 Bethesda Metro Center, Suite 700 Bethesda, MD 20814
5100 Buckeystown Pike Ste 250 Frederick, MD 21704