What Can I Do If My Child Isn't Doing Homework at My Ex's House?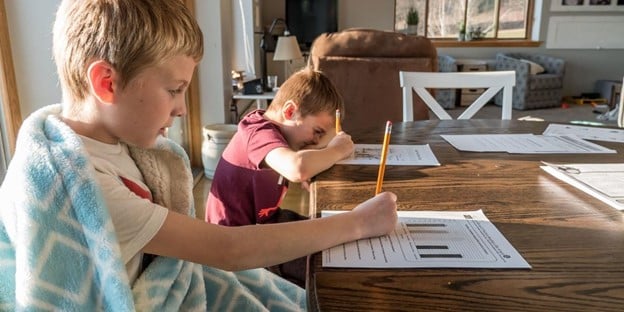 Under the best of circumstances, getting kids to do their homework can be a struggle. But if you add in kids who ferry between homes with two sets of rules—especially if one household makes them do their homework and the other doesn't—can make a bad situation worse.
If you share custody with your ex and your kids aren't doing their homework there, you may wonder if there's anything you can do about it. Read on.
Best Interests of the Child
Some states allow for a modification of parenting time to take into consideration the best interests of the child. If your child isn't doing their homework at one parent's house, for a variety of reasons, this may be a reason to petition to modify parenting time.
If the other parent is too lenient in order to garner favor from the children, for example, and they're not doing homework is causing their grades to plummet, a judge may see that as a good reason that your ex does not have parenting time during the school week.
However, this may be an uphill battle to fight, especially if you have younger children for whom homework doesn't hold much weight in school yet. A skilled family law attorney can help you determine if your children's missed homework is enough to potentially warrant taking your ex back to court.
Change of Circumstances
If circumstances have changed, such as your ex getting a new job that requires they work during much of their parenting time and they can no longer supervise homework, this also may be a case for a modification of parenting time.
In this situation, it may be best to first approach your ex openly and honestly. Talk with them about how important it is that the kids get their homework done, and how their new life changes make that difficult for everyone. Consider offering up extra time to make up for any schedule shifts, such as one extra weekend a month or extra time over holiday and summer breaks.
But if discussing the issue with your ex doesn't work out, you may have to go into mediation or even back to court to let a judge decide the outcome.
Gather Evidence
No matter what road you choose, it's important to ensure that you're able to show a pattern of incomplete homework in order to make your case.
Things such as notes or emails from the teacher, blank homework logs, and a pattern of declining grades are key to making a case for a modification of parenting time. Your attorney can help you determine what type of information you need to collect, and for how long, in your individual situation.
Experienced Family Law Attorneys in Maryland
Whether you're still figuring out what your divorce will look like or you need a modification, the family law team at the Law Offices of Sandra Guzman-Salvado can help. We're experienced in a wide variety of divorce and custody situations, and our child custody lawyers in Rockville have worked all across Maryland. Schedule your consultation today!