Mistakes Witnesses Make (And How To Avoid Them)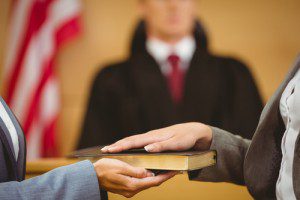 A great witness can be the difference between losing and winning a case. So can a harmful witness. So how can you make sure you are on the correct side of this line? Here are a few pointers I have developed over my many years working with witnesses.
Mistake #1: Lack of Preparation
It is tempting to think that since all you are doing is telling your story, preparation is not really necessary. There are several problems with this line of reasoning – primarily that the other side is doing just the opposite. Although you are telling your story, there are many ways that differences in phrasing, non-verbals, and even hesitations may conversely effect the words you are speaking. In addition to this being a completely new, and often times intimidating experience, keep in mind that there will be another side who has spent countless hours and days preparing for your interview and looking for the areas they might find weak. Even if you have done nothing wrong and are just there to relay your story, their goal will be to find your weaknesses. Daniel Small puts it plainly in his 2013 article for Massachusetts Lawyers Weekly: "You're walking into a strange environment with a great deal at stake, where everyone else is experienced, comfortable, and prepared. You can't adequately prepare for this challenge without professional help, period."[1]
The Solution: Prepare, prepare, prepare. This is what your legal team is here for. As veterans of the field, we know what to watch for and we can help you know how and when the important questions will come. With practice and repetition, your lawyer can help you clearly, confidently and accurately convey your meaning to the court.
Mistake #2 – Speaking Too Soon.
By the time your day in court arrives, you will have been over and over the matters of discussion to where they seem beaten to death or mundane. Keep in mind, this is usually going to be the courts first time hearing the details of the case. Answering hastily or anticipating a line of argument can greatly damage your credibility and/or the case. [2]
The Solution: Always wait a second or so before you answer. This gives you time to collect your thoughts and answer clearly. It also gives your attorney time to object if needed. Make sure you understand any question before you begin answering, and then answer the question fully but without going further into future potential questions.
Mistake #3 – Speaking Too Much or Volunteering Information.
As important as it is to answer your questions clearly and accurately, it is also important to stop when you are done. With all of the preparation you have done, you may know where a question is headed and volunteer too much information or information out of order.
The Solution: Answer each question as positively and definitely as possible, and then STOP. Your
lawyer to take the questioning where it needs to go. Along this same topic, Stop speaking instantly when an attorney objects to a question or if the judge interrupts you. Wait for the judge to tell you to continue before answering any further.
Mistake #4 – Giving The Answer You Think The Questioner is Looking For Instead Of The Absolute Truth
This might seem like common sense, but sometime I can be tempting. For example, an attorney may ask you: "Have you talked to anybody about this case?" It might be tempting to say "no" but the judge will know that is probably not true as you have likely been approached by the prosecutor, police officers, federal law enforcement agents, etc. [3]
The Solution: Always tell the full and complete truth. Try not to guess at where a line of questioning is going to how to steer it in the right direct. That is the lawyer's job. Your job is to clearly and accurately describe your own experience. In the case above, it would be better in this case to say clearly and precisely who you have spoken with (including friends or family members) There is nothing improper about this and it build your credibility as a witness.
Mistake #5 – Not Dressing The Part.
It may sound trivial, but the old concept that first impressions are everything is also true in the courtroom. Often witnesses are so worried, stressed, or busy that they neglect to pay attention to the impression they are making.
The Solution: Dress appropriately and professionally. Avoid clothing. Make-up or fragrance that could be distracting. You want to convey that you understand the importance of this proceeding and you take it seriously. [4]
We hope this primer on the common pitfalls with help you feel more prepared and confident about your upcoming day in court. Remember, we are here to help you navigate these strange waters. Please do not hesitate to reach out to your attorney or team as you prepare – that is part of what we are here for!
SOURCES
[1] Daniel I. Small, Massachusetts Lawyers Weekly, "Three Big Mistakes Witnesses Make" http://www.hklaw.com/files/Uploads/Documents/Articles/Small_MassLawyer_ThreeBigMistakes.pdf, (October 17, 2013).
[2] Clark Head, "How To Testify Effectively In Court" http://www.lawyerssacramento.org/How_To_Testify_in_Court.html
[3] The United States Attorney's Office, Middle District of Pennsylvania, "Tips For Testifying In Court: Victim Witness", http://www.justice.gov/usao-mdpa/victim-witness-assistance/tips-testifying-court, (April 22, 2015).
[4] Anthony Flores, "Taking the Terror out of Testifying: Tips for Nonattorneys who Testify in Child Welfare Proceedings", http://courts.mi.gov/Administration/SCAO/OfficesPrograms/CWS/ChildWelfareServicesTraining/CWS%20Training%20Materials/4.11.12.CWS.WorkshopA1.Taking.the.Terror.out.of.Testifying.pdf, (April 2012).
---
Disclaimer:
We are pleased to communicate with you concerning your family matters. However, if you communicate with us through the web regarding a matter for which our firm does not already represent you, your communication may not be treated as privileged or confidential, and shall not be deemed to create an attorney/client relationship. Furthermore, you should not provide confidential information to anyone at our law firm in an e-mail inquiry or otherwise unless we have first entered into a representation agreement.  By continuing to our website you are deemed to have agreed to these terms and conditions.