It's Their Way or the Highway: Co-Parenting with a Narcissist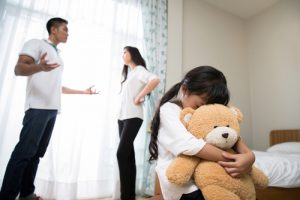 You have heard it one too many times. You have dealt with their selfish comments, their inability to apologize and their abusive, harsh words. It makes parenting so much harder than it needs to be. When narcissism takes over, simple conversations can become unbearable and non-productive. Co-parenting with a narcissistic ex-spouse may be one of the most difficult things you have to go through, but you must rise above it. The first step to understanding how to co-parent with a narcissistic ex-spouse is to recognize the symptoms.
"Narcissism is the personality trait of egotism, vanity, conceit, or simple selfishness." [1] A child with narcissistic parent, "…realizes early on that he exists to provide a reflection for the parent and to serve the parent, not the other way around." [2] Everything they do must fit perfectly into the mold the parent originally intended for them. A narcissistic parent often times competes with the child and belittles them when their superiority feels threatened. The relationship becomes damaged and, often times, leaves the child feeling unloved. It is important that the child has at least one stable parent who continues to show love and selflessness to the child regardless of how the other parent behaves.
Call Now To Discuss Your Options (301) 340-1911
Symptoms of a Narcissistic Parent
These characteristics help to identify a person with a narcissistic personality:
Lacks empathy or care for others
Is often arrogant and portrays haughty behaviors
Demands constant admiration
Has an inflated sense of self-importance, often exaggerating their achievements
Provokes and baits you
Belittles others in an attempt to reassure their own self worth
Denial about painful circumstances or of their own narcissism
Intimidation of others with similar or more advanced talents or achievements
Sense of entitlement
Often times lies or over exaggerates to prove a point
How to Co-Parent with a Narcissistic Ex-Spouse
There is no winning with a narcissist, only coping. The most important thing to remember is that your child needs a stable role model to set a proper example.  Regardless of how your ex-spouse acts, you can control how you respond and deal with the conflict. Below are a few very important tips for co-parenting with a narcissist.
Limit contact and decrease emotional connection.
Get everything in writing. Promises not kept about paying child support and so on can be used in court to prove irresponsibility.
Avoid conflict and keep your conversation only about the children.
Keep firm boundaries. "Your boundaries will provide the consistency that you and your children need to be healthy." [3]
Do what is best for your children regardless of the effects it has on your ex-spouse.
Make up for the narcissist's neglect and give your child the reassurance and love they need.
Be a good role model for your child and also encourage their interests.
Try parallel parenting: "Parallel parenting allows both parents to make decisions regarding the children when the children are under their care." [3]
Call Now To Discuss Your Options (301) 340-1911
Although challenges may never seem to stop, your child needs you to be the strong, stable parent.  They need encouragement, reassurance and support from at least one of their parents.  In doing so, they will not only succeed in life, but thrive. Remember that, when dealing with a narcissistic ex-spouse, it is important to refrain from retaliating as this can be used against you in court.  Adhering to these guidelines as much as possible, and putting agreements in writing, will make it easier for your attorney or lawyer to present your case to the judge.
Sources:
[1] Divorced Moms, "Is Your Child Being Emotionally Abused By Your Ex." http://divorcedmoms.com/articles/coparenting-with-a-narcissist-what-to-do-when-your-children-are-being-emotionally-abused- (May 10, 2016).
[2] Psychology Today, "Narcissistic Parents' Psychological Effect on Their Children." https://www.psychologytoday.com/blog/insight-is-2020/201405/narcissistic-parents-psychological-effect-their-children (May 1, 2014).
[3] Love to Know, "Co-Parenting with a Narcissist." https://family.lovetoknow.com/co-parenting-narcissist
---
Disclaimer:
We are pleased to communicate with you concerning your family matters. However, if you communicate with us through the web regarding a matter for which our firm does not already represent you, your communication may not be treated as privileged or confidential, and shall not be deemed to create an attorney/client relationship. Furthermore, you should not provide confidential information to anyone at our law firm in an e-mail inquiry or otherwise unless we have first entered into a representation agreement. By continuing to our website you are deemed to have agreed to these terms and conditions.