Co-Parenting: There's an App for That?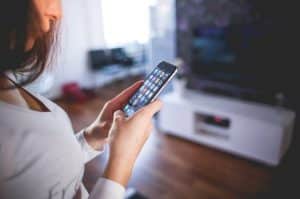 Communicating with your ex-spouse during or after a divorce can cause a lot of hostility and unneeded frustration for you and your children. You may be wondering how you are going to parent your children together when just seeing your ex-spouse causes your heart to race and blood to boil. Thankfully we live in the 21st century and technology is more sophisticated than ever before. With many online resources for separated parents, co-parenting with your ex-spouse has never been easier.
The increased demand for technology that makes parenting with an ex easier has led to a development in a number of apps that assist with effective scheduling and planning for both parents and in some cases, everyone in the family. Many of these apps allow you to post schedules, record upcoming events, negotiate a change in visitation, post important topics, and post about expense and payment tracking in a neutral environment.  Even in instances where you may be tempted to reply to a scheduling request change from your ex in a hostile tone, certain apps warn you before sending a message to give you a chance to rethink your reply.
8 Apps for Co-Parenting
Below is a list of the top eight most useful co-parenting apps for separated parents who prefer to avoid phone conversations and face-to-face visits.
Our Family Wizard- Created by a divorced couple, this app provides visitation and child custody schedules, parenting plans, calendars, and other tools. Resources and links for counseling and other legal services also included.
Kidganizer- Create profiles for each child and add information regarding schedules, finances, and send alerts to remind family members of important events including doctor visits, parent teacher conferences, and more.
2Houses– This app offers a calendar to organize custody and events, post information about doctor's visits and school documents, post to photo albums, and record notes about food allergies and other important information in a journal. An expense module section allows for managing child related expenses.
Skedi- Great for all family members. This cloud based app syncs with your calendar and allows easy management of drop offs, pick-ups, and assigning certain tasks to other family members. Ideal for busy families on the go.
Cozi- The "Must-have app for the modern family." [1] This program allows parents to post and share calendars, add to-do lists, chores, shopping lists, recurring events, forward events to family members, and set up alerts via text and email.
About One- Need to access paperwork quickly while on-the-go? This app acts as on online file for keeping heath information, receipts, instructions for caregivers, school reports, upcoming events, paperwork, and emergency contact information.
Custody Junction- Still in the middle of getting a divorce? Schedule current and future visitations for up to two years in advance. Reports can be customized regarding visitation, support payments, hours spent with the child and more. These reports can be shared with lawyers and court monitors.
My School Bucks- Manage your child's school payments for lunches, field trips, after school activities, and more. View account balances and recent purchases and set up notifications for upcoming payments. When one parent may be low on cash, the other can contribute without sending checks to the school. This app also allows parents to see a child's menu selections and get low balance alerts.
"Peaceful, consistent, and purposeful communication with your ex is essential to the success of co-parenting—even though it may seem absolutely impossible." [2] These helpful co-parenting apps are a great way to begin the process of peaceful co-parenting. By focusing on your children and refraining from acting on your anger and pent-up feelings, you can help your children adjust to the difficult changes that divorce brings.
Sources
[1] Youthletic, "8 Apps That Help Organize Co-Parenting Schedules." https://www.youthletic.com/articles/8-apps-that-help-organize-co-parenting-schedules/
[2] Help Guide, "Co-Parenting Tips for Divorced Parents." http://www.helpguide.org/articles/family-divorce/co-parenting-tips-for-divorced-parents.htm (October 2016).
---
Disclaimer:
We are pleased to communicate with you concerning your family matters. However, if you communicate with us through the web regarding a matter for which our firm does not already represent you, your communication may not be treated as privileged or confidential, and shall not be deemed to create an attorney/client relationship. Furthermore, you should not provide confidential information to anyone at our law firm in an e-mail inquiry or otherwise unless we have first entered into a representation agreement. By continuing to our website you are deemed to have agreed to these terms and conditions.