Tips for Telling School-Aged Children About Divorce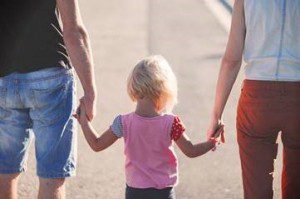 You and your spouse have come to the conclusion that it is time to end your marriage. There are many decisions that must be made and details to be ironed out. Visitation schedules, decision-making responsibilities, and division of marital assets must all be determined.
But perhaps chief in your minds at the early stages of a divorce is when to tell your school-aged children. The change will affect them greatly and, once they know, their lives will never be the same.
Though there's no secret formula that can make telling your children easy or perfect, there are a few things you can do to set you up for a successful transition into your new lives.
Choose your timing carefully
The news that your household is splitting up will rock your children's world. Breaking the news right before school or bed, in the car on the way to an activity, or when your children already are tired or emotional will make things worse. [1]
Choose a time when you will have the opportunity to answer questions and offer comfort afterward. Weekend afternoons are generally best for this, as more open schedules give way to more free time.
Before you sit down to break the news, engage in some pre-planning.
First, get as many plans in place for after your separation as possible to give your kids a sense of stability. Being able to answer questions about who will live where, when they will see each parent, and where family pets will live during that first conversation can make their adjustment easier. [1]
Also, as difficult as it may be to work with your spouse, telling your children the news together and with a united front will serve your children best. Discuss answers to common questions such as why you are separating, who will live where, and what it means to get divorced so you can both be on the same page. [2]
Make sure to tell your children it isn't their fault
Whether they think it is because they got in trouble at school, didn't clean their room, or said unkind words at some point, many children immediately feel they are, in some way, to blame for your divorce. Tell your children the divorce was a decision the adults made and is in no way their doing. Reassure them that, even though you will no longer all live in the same house, you both will still love them the same as before. [3]
Also impress upon them that the decision to separate is final; there is nothing they can do to change things. Just as kids feel they may have done something wrong to bring about a divorce, they also can feel as if good behavior and extra kindness will get their parents back together. Remind them that you love them no matter what, and no matter what happens, you will be there for them. [1]
Answer questions at their level
Kids don't need to know the details. Simply saying that you and your spouse have decided you no longer want to be married and cannot live together anymore, and that your children will live in two homes now is sufficient. If they've seen or heard you fighting, let them know that you wanted to stop fighting, and this is the best way for everyone to be happy. Avoid telling your children that you and your spouse no longer love one another, as this may send the message to them that you or your spouse could one day stop loving them. [1]
Let them ask questions, and answer those questions in ways they will understand. Do not go into details about your custody schedule, who gets what piece of property, or what led to your breakup. Find out what you can about your children's understanding of divorce. Clear up any misconceptions they may have. Chances are your children know a friend or two from school with separated parents. Make sure they are getting correct information from their peers. [1]
Keep talking
The discussion about your divorce will not and should not end after the initial conversation. Keep an open dialogue with your children, and let them know they can come to either you or your spouse with any questions or concerns they may have. Divorce, though it does ultimately make most families happier and more harmonious, is never easy on children. Questions can arise days, weeks, or even years down the road. Lend a listening ear to your children and put their worries to rest as best you can. [1]
No matter what, telling your children you and your spouse are getting divorced will not be easy. But you will make it through, and if you remember the four tips above, you all may come out on the other side of your divorce happier and healthier.
Sources:
[1] Herrick, Lisa, "Guide to Telling the Children about the Divorce," http://lisaherrick.com/separation-and-divorce-work/guide-to-telling-the-children-about-the-divorce/.
[2] Saposnek, Donald T., "What Should We Tell the Children? Developing a Mutual Story of the Divorce," http://www.mediate.com/articles/falleditorial.cfm.
[3] Healthychildren.org, "How to Talk to Your Children about Divorce," https://www.healthychildren.org/English/healthy-living/emotional-wellness/Building-Resilience/Pages/How-to-Talk-to-Your-Children-about-Divorce.aspx.