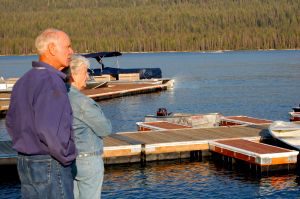 Divorce rates in the United States have declined steadily over the last twenty years. However, over that same period of time, Divorce rates for individuals that are over the age of 50 have risen. In 1990, the divorce rate for people over 50 was over 1 in 10. These days, that figure is nearly 1 in 4. Although many of the typical challenges involved in a divorce, such as child support and custody, may not be issues, divorcing over the age of 50 has unique issues that can be just as challenging to navigate.
One such issue that can be a challenge is how to split up the finances. Couples that have been married for a long time often have built up substantial savings and retirement accounts that they planned on relying on. While individual retirement accounts can be split up as part of the divorce agreement, in order to split up the assets from a retirement account, such as a 401(k), a couple will need to utilize a Qualified Domestic Relations Order, or "QDRO". A QDRO is a court order that is used to divide benefits without incurring tax penalties. However, when withdrawing money from a retirement account, it is important to calculate the real value of the account rather than the balance. This is because after taxes incurred from withdrawing the money, the value of the account can end up being about 65% of what the balance was.
Another issue that can come into play is alimony. Typically, alimony is rewarded to the spouse who makes less money. However, depending on how old the people getting divorced are, the health of the spouse may become a factor in regards to being able to depend on the monthly payments. As such, the lesser-earning spouse may decide to claim the Social Security benefits of the higher earning spouse. Unless the spouse remarries, he or she is entitled to the benefits after reaching the age of 62. It is imperative to consider the social security benefits during any alimony negotiations. Furthermore, if a former spouse dies, the surviving ex may be entitled to survivor benefits, which is 100% of their former spouse's benefits. In order to qualify, however, the marriage must have lasted at least 10 years.
Another overlooked issue is that of health insurance. If a spouse is part of either a family policy or covered by their spouse's policy, the loss of health insurance can be a real issue. If the spouse is too young to qualify for Medicare benefits, one option they may proceed with is enrolling with COBRA benefits. COBRA provides temporary continuation of health coverage for up to 36 months after the loss of coverage. While the spouse would be getting the same coverage as they were previously, the cost of coverage would be significantly higher. Additionally, attempting to enroll in reasonably priced health care at an advanced age can prove to be very difficult. One way that couples are combating this dilemma is by proceeding with a legal separation as opposed to a divorce. This way, the spouses may not lose health care but can go forward with splitting the additional assets.
While the typical issues in a divorce can be avoided, it is clear that divorcing after the age of 50 has its own unique set of issues that must be settled. It is imperative that an individual considering this utilizes any expert possible in order to minimize the stress and problems that can arise.
[1] http://www.connichlaw.com/Articles/Divorce-Rates-Soaring-Among-Couples-Over-50.shtml
[2] http://www.levinepirolaw.com/Blog.html?entry=divorce-after-50
[3] http://www.smartmoney.com/spend/family-money/divorce-over-50-mistakes-to-avoid-1300832383830/
[4] http://www.avvo.com/legal-guides/ugc/divorce-after-50—unique-issues-older-couples-face-
[5] http://www.nextavenue.org/article/2012-03/divorce-after-50-calls-special-money-strategies