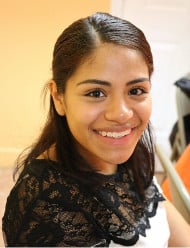 24 Reviews
My experience with you was a very good one. Even though the reason that I needed an attorney was not pleasant, you did a very good job of making sure things were handled and keeping me informed which in turn allowed me not to focus on my everyday life…
Latika T., Germantown, Maryland
Mrs. Guzman represented me during my divorce and I have to say I felt guarded at every step of the process, but Mrs. Guzman took the time to meet with me as many times as I needed before the court day. You'll find Mrs. Guzman carries herself with…
Zoe U., Germantown, Maryland
I am Maria and I used Sandra's services. She was very proper and genuinely concerned for my well being as her client. The most important thing is that she was very honest and upfront. I highly recommend her without reservation to anyone. For me she was the best.
Maria P., Boyds, Maryland
Ms. Guzman-Salvado was appointed as counsel for minor children in a hotly contested custody case I was invloved in where I represented the father. Ms. Guzman-Salvado represented the minor children zelously and appropriately in the litigation. She cared about her clients and helped settle the case in a manner that was clearly in the minor children's best interests…
David Bach, Family Attorney
Sandra cares about her clients and is a very knowledgeable and dedicated attorney. I highly recommend her to any prospective client.
David Gardner, Family Attorney
Sandra is an excellent attorney. She is incredibly knowledgeable and leads with compassion. She is very well respected by fellow lawyers practicing in family law.
Sakhouy Lay, Transportation Attorney
Raquel Martinez
I am a senior at the University of Maryland majoring in Criminology and Criminal Justice with a spiked interest in law. I currently work at the Law Offices of Sandra Guzman Salvado as an administrative legal assistant and enjoy every aspect of it. My knowledge on the criminal justice side often intertwines with what we encounter every day. I enjoy working with a diverse intellectual firm where I can apply my knowledge and new strategies every day. My hobbies include reading, writing, and my occasional hikes at Great Falls.
Office Locations
11 North Washington St. Ste 500 Rockville, MD 20850
6301 Ivy Lane
Ste 700 Greenbelt, MD 20770
3 Bethesda Metro Center, Suite 700 Bethesda, MD 20814
5100 Buckeystown Pike Ste 250 Frederick, MD 21704